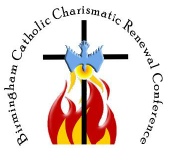 Conference Details
"A new command I give you: Love one another.
As I have loved you, so you must love one another."



Birmingham Catholic Charismatic Renewal Conference
A Registered Charity Incorporated Organisation No.1153935
Registered Office: Nine Acres, Uffmoor Lane, Halesowen, West Midlands B63 1DL
POPE FRANCIS
On September 30th 2019, Pope Francis decreed that the third Sunday of Ordinary Time henceforth will be celebrated as the Sunday of God's Word.
2020 will be a year of celebrating, living and sharing God's word, through a range of events, activities and resources, Pope Francis mentions the Second Vatican Council's teaching on the inerrancy of Scripture:
Dei Verbum stresses that "we must acknowledge that the books of Scripture firmly, faithfully and without error, teach that truth which God, for the sake of our salvation, wished to see confided to the sacred Scriptures"
(Dei Verbum 11).
Since the Scriptures teach with a view to salvation through faith in Christ (cf. 2 Tim. 3:15), the truths contained therein are profitable for our salvation. The Bible is not a collection of history books or a chronicle, but is aimed entirely at the integral
[i.e., complete] salvation of the person.
The evident historical setting of the books of the Bible should not make us overlook their primary goal, which is our salvation. Everything is directed to this purpose and essential to the very nature of the Bible, which takes shape as a history of salvation
in which God speaks and acts in order to encounter all men and women and to save them from evil and death (n. 9).
He also cautions against neglecting the Old Testament and regarding it as something that does not apply to us:
The Old Testament is never old once it is part of the New, since all has been transformed thanks to the one Spirit
who inspired it (n. 12).
Please Prayer for the Birmingham Conference.
Conference Prayer
Father, in Heaven,
pour out Your Spirit upon the
Birmingham Conference.
Grant to everyone a new vision
of your glory,
A new experience of Your Power
A new faithfulness to Your Word
A new consecration to Your Service
so that Your Love may grow among
us and Your Kingdom come
through Jesus Christ Our Lord.
Amen.
Our vision is to offer an opportunity to gather together in Praise and Worship,
to receive sound Christian teaching from local and international speakers and
to celebrate the Holy Mass each day.
Our mission is to spread the gospel of Jesus Christ in accordance with the doctrines and teachings of the Roman Catholic Church.
Celebration of the Eucharist
is one of the highlights of the Birmingham Conference
and is the source and summit of our faith.
And every day culminates with Holy Mass,
7 Each person should give as much as he has decided in his heart, not with reluctance or under compulsion, for God loves a cheerful giver.
2 Corinthians 9: 7
Dear brothers & sisters in Christ Jesus
I hope you're well and having a fruitful Lent. I am delighted to be able to say that bookings are now open for our Conference 2022:
Encounter which will be held from Friday 19th August to Sunday 21st August. The theme for this year's conference is 'The Woman at the Well:
healing, transformation and mission'. We are very blessed that Fr Pat Deegan will be our key note speaker. Please see further details on the flyer.
You can book your place by clicking on this link and completing the form: https://forms.gle/VgYKRDpnRGirMGe69 or type this link into your browser.
Once you have done this, we will send you details of how to pay your deposit. Your place is only confirmed once we have received your deposit in full (£100).
There are a limited number of places available for this year's conference and they will be allocated on a first come first served basis.
Full payment of £249 will be due by Friday 22nd July.
We are very much looking forward to and praying for the conference this year. As usual there will be times of praise, adoration,
Mass, confession, healing ministry, inspiring talks and workshops and fellowship. We hope you can join us.
Please contact us by emailing info@bccrc.org.uk if you have any questions.
Yours in Christ
Frances Baines
Bccrc Chairperson
Woodbrooke Conference Centre, 1046 Bristol Road Birmingham B29 6LJ