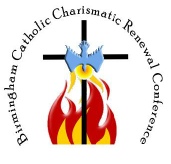 Conference Details
"A new command I give you: Love one another.
As I have loved you, so you must love one another."



Please Prayer for the Birmingham Conference.
Conference Prayer
Father, in Heaven,
pour out Your Spirit upon the
Birmingham Conference.
Grant to everyone a new vision
of your glory,
A new experience of Your Power
A new faithfulness to Your Word
A new consecration to Your Service
so that Your Love may grow among
us and Your Kingdom come
through Jesus Christ Our Lord.
Amen.
Our vision is to offer an opportunity to gather together in Praise and Worship, to receive sound Christian teaching from local and international speakers and to celebrate the Holy Mass each day.
Our mission is to spread the gospel of Jesus Christ in accordance with the doctrines
and teachings of the Roman Catholic Church.
Birmingham Catholic Charismatic Renewal Conference
A Registered Charity Incorporated Organisation No.1153935
Registered Office: 6 St Peters Croft Driffold Sutton Coldfield B73 6HU
Coronavirus
We are very sorry to announce that the committee has decided due to the threat of Coronavirus, we will be cancelling the Day of Renewal
on the 4th April
We would be very grateful if you could spread the word as best you can.
We also ask you to join us in prayer at home on the 4th April for all those affected by the virus and for end to the virus.
We look forward to seeing you all at the August conference 10th to 14th.
Yours in Christ Jesus
Bccrc Committee
POPE FRANCIS
On September 30th 2019, Pope Francis decreed that the third Sunday of Ordinary Time henceforth will be celebrated as the Sunday of God's Word.
2020 will be a year of celebrating, living and sharing God's word, through a range of events, activities and resources, Pope Francis mentions the Second Vatican Council's teaching on the inerrancy of Scripture:
Dei Verbum stresses that "we must acknowledge that the books of Scripture firmly, faithfully and without error, teach that truth which God, for the sake of our salvation, wished to see confided to the sacred Scriptures" (Dei Verbum 11).
Since the Scriptures teach with a view to salvation through faith in Christ (cf. 2 Tim. 3:15), the truths contained therein are profitable for our salvation. The Bible is not
a collection of history books or a chronicle, but is aimed entirely at the integral
[i.e., complete] salvation of the person.
The evident historical setting of the books
of the Bible should not make us overlook their primary goal, which is our salvation. Everything is directed to this purpose and essential to the very nature of the Bible, which takes shape as a history of salvation
in which God speaks and acts in order to encounter all men and women and to save them from evil and death (n. 9).
He also cautions against neglecting the
Old Testament and regarding it as something
that does not apply to us: The Old Testament is never old once it is part of the New, since all has been transformed thanks to the one Spirit who inspired it (n. 12).
Celebration of the Eucharist
is one of the highlights of the Birmingham Conference
and is the source and summit of our faith.
And every day culminates with Holy Mass,
The Conference lasts for five days.
Receive the Eucharist every day
Praise and Worship twice a day
Adoration of the Blessed Sacrament
Prayer Ministry every day
Healing Ministry after every Mass
UK and International Speakers
Youth Ministry
Children's Ministry
Fellowship
The God Who Speaks "The word became flesh"
John 1: 14
It was the great biblical scholar, St. Jerome, who said that
"ignorance of the scriptures is ignorance of Christ".
10th - 14th August 2020
Rowton Hotel
145 Alcester Street Birmingham B12 0PJ
Eddie Stone
Eddie Stones is based at the Emmanuel House of Prayer, Clonfert, Co. Galway. His healing ministry with the support of his local Bishop, John Kirby, has brought great strength and renewal of faith to many.
Fr. Frankie Mulgrew
Fr Frankie Mulgrew is a former professional entertainer and a priest of the Diocese of Salford. He is Parish Priest of St James and All Souls, Salford and the Catholic priest chaplain to Salford University. He has been fortunate to compile and edit the books 'Does God LOL?' And 'Miracles R Us' and he helped set-up and run a Mercy Bus in the ford Diocese during the Year of Mercy
Andy Stayne
Andy was baptised in the Spirit in 1982. He has been a prophetic worship leader for over 35 years. He is a member of the South West Diocesan service team (Communion). He has been on many missions throughout the UK and overseas where he has seen the Lord confirming the Gospel with signs and wonders
and many people open their hearts to Jesus and be baptised in the Holy Spirit. He ministers regularly at New Dawn with Ros Powell and also has run workshops and life in the Spirit Seminars at the conference and spoken at a number of UK conferences.
19 years ago the Lord sent him to Cornwall, where he established and runs the New Life Catholic Charismatic prayer group and Life in the Spirit Seminar team. Following a strong prophetic vision in about 2013, he compiled and runs a Catholic Prophecy Conference which aims to establish the gift of prophecy in these times and equip empower and release people in the gift through sound teaching and sound practice.
He operates from a prophetic gifting in evangelism, worship, healing, personal prophecy, prophetic teaching and prophetic worship all rooted in the Father's heart.
Mauro Ianniclli is a lay Catholic evangelist originally from Rome and is 49 years old. He came to live in the UK in 2006 to work in Investment Banking as A software developer. Mauro was a seminarian for the Diocese of Westminster from 2012 to 2016. He is now married to Janet and lives in London. Mauro is very passionate about spreadingthe Catholic faith.
In the past 15 years he has studied and personally experienced some of the most successful tools for parish evangelisation, like the Alpha course, the Neocatechumenal Way, the Parish Cell System, the Bible Timeline Study System and many others. Mauro has a unique Charism of teaching and runs Come & See, his full time ministry to help parishes for the task of New Evangelisation.
The Bible Timeline Seminar
The Whole Bible in Four Sessions!
Come & grasp the Big Picture of the Bible,
from start to finish, during our Conference.
Ros Powell
Is a regular speaker at Catholic Charismatic Conferences; New Dawn Walsingham, New Dawn Scotland, New Dawn Portugal, Celebrate weekends and Birmingham Charismatic Conference to name a few. Ros Speaks and ministers at Woman Aglow meetings, Catholic Charismatic Days of Renewal, interdenominational meetings, A.L.P.H.A. meetings, Pro-Life meetings and leads weekend seminars on Life in the Spirit Seminars.
Message from the Chairmen Andrew Kenny
The Birmingham Catholic Charismatic Renewal Conference (BCCRC) will
be moving to a different location 2020, the Rowton Hotel.
Our previous venue St John's Hotel is unfortunately no longer a viable option and after a considerable amount of prayer we feel that the Lord has guided us to the Rowton and we do hope that you will be able to join us there week beginning the 10th August.
The Rowton (formerly the Paragon) has undergone some improvements since we were last there some seven years ago. We have some very fond memories of the venue and the Lord blessing us abundantly during our time there as I am sure He will do again.
We are very happy to announce that we are able to freeze the cost of the conference for another year, there will be no increase
in charges.
Thank you for your continued support and please pass the message on to anyone you feel may be interested in attending what always turns out to be a wonderful week with the Lord. Please keep us in your prayers.
Andrew Kenny (Chairman)