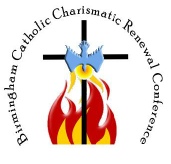 Conference Details
"A new command I give you: Love one another.
As I have loved you, so you must love one another."
"Abide in me, and I in you"
John 15: 4
"He who eats my flesh and drinks my blood
abides in me, and I in him'" John 6: 56
"We being many,
are one body in Christ"
Romans 12: 5
Conference Prayer
Father, in Heaven,
pour out Your Spirit upon the
Birmingham Conference.
Grant to everyone a new vision
of your glory,
A new experience of Your Power
A new faithfulness to Your Word
A new consecration to Your Service
so that Your Love may grow among
us and Your Kingdom come
through Jesus Christ Our Lord.
Amen.
The Conference
lasts for five days.
Receive the Eucharist every day
Praise and Worship twice a day
Adoration of the Blessed Sacrament
Prayer Ministry every day
Healing Ministry after every Mass
UK and International Speakers
Youth Ministry
Children's Ministry
Fellowship
Celebration of the Eucharist is one of the
highlights of the Birmingham Conference
and is the source and summit of our faith.
And every day culminates with Holy Mass,
is a member of the Vincentian Congregation based in Dublin. Ordained in 1971 he has
studied in Ireland, England and the USA. Fr. Pat has published hundreds of articles and 21 books the latest of which is entitled, Guided by God: Ordinary and Charismatic ways of Discovering God's Will. He is committed to Charismatic Renewal and is in demand as a speaker both nationally and internationally, having spoken in 26 countries.
He is a co-founder of a covenant community. The New Springtime – dedicated to evangelising and the training of evangelists. We welcome him back to the Conference.
Jonathan Allen
Messianic Rabbi
along with his wife, Belinda, lead Messianic Education Trust, which is an educational ministry based in England. It is a part of the Tikkun family of ministries, serving the Messianic Jewish community in Israel, Cyprus and the USA, as well as former republics of the Soviet block. Jonathan teaches biblical Hebrew and many other things covering a wide range of subjects from biblical criticism to the gospels.
Jonathan and Belinda have been the UK emissaries of Tikkun International since 2003. Tikkun International is a Messianic Jewish family of ministries with their corporate headquarters in Jerusalem, Israel. Tikkun facilitates a network of Messianic Jewish congregations in the United States of America as well as a network of congregations and ministries in Israel.
A Word of Welcome
A very warm Welcome to the 31st Birmingham Catholic Charismatic Renewal Conference! Thank you for your continual support, prayer and presence, the Conference would not be the same without you! If you are a seasoned member of the Conference, if you have come for the last few years, if this is your first Conference, know that you are warmly welcomed.
The preparations for the Conference have been underway for many months, the writer of these few words of welcome does so during the Christmas Season, that journey of prayer that began during Advent, during which we hear the words: 'Emmanuel, a word which God-is-with-us.' The preparation for the Conference is something akin to the Advent journey, the Advent of God's dawning presence amongst us.
The journey has been a little uncertain at times, but continually the Committee has recognised the abiding presence of Emmanuel, God-is-with-us.
We are delighted to be back at the St John's Hotel for our 31st Conference.
After much prayer and discernment, the theme for Our Conference is: 'The Body of Christ.' As the Conference begins, we recognise that we form a small part of the Body of Christ, we gather as a Community of Faith, a community which is grounded in prayer and praise, the Word of God and the Celebration of the Sacraments, especially the Eucharist.
Pope Francis often describes the Church as 'God's Holy and Faithful People,' maybe the Holy Father was inspired by the words of St Peter: 'But you are a chosen race, a kingdom of priests, a holy nation, a people to be a personal possession to sing the praises of God who called you out of the darkness into his own wonderful light.'
(1 Peter 2:9-10).
The Church proclaims the Universal Call to Holiness, as you read these words of welcome, know that God has called (is calling!) you to holiness! Pope Francis celebrates this call and invitation so beautifully expressed in his Apostolic Exhortation, Gaudete et Exsultate ('Rejoice and Be Glad'), On the Call to Holiness in Today's World.
During this, our 31st Birmingham Catholic Charismatic Renewal Conference, we are being called to renew our call to holiness, a good place to begin might be to fully recognise and celebrate this call! The daily Prayer and Praise, the Healing Ministry, Exposition of the Blessed Sacrament, the wisdom and blessing of the Conference Speakers, culminating in Celebration of the Eucharistic, these are all daily invitations for to renew and celebrate the Call and Invitation to Holiness, as Pope Francis reminds us, this call is indeed in the everyday of our Lives.