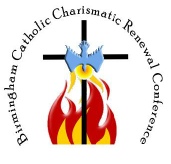 Conference Details
"A new command I give you: Love one another.
As I have loved you, so you must love one another."
2018 Conference 6th - 10th August
Conference Prayer
Father, in Heaven,
pour out Your Spirit upon the
Birmingham Conference.
Grant to everyone a new vision
of your glory,
A new experience of Your Power
A new faithfulness to Your Word
A new consecration to Your Service
so that Your Love may grow among
us and Your Kingdom come
through Jesus Christ Our Lord.
Amen.
The Conference
lasts for five days.
Receive the Eucharist every day
Praise and Worship twice a day
Adoration of the Blessed Sacrament
Prayer Ministry every day
Healing Ministry after every Mass
UK and International Speakers
Youth Ministry
Children's Ministry
Fellowship
Celebration of the Eucharist is one of the
highlights of the Birmingham Conference
and is the source and summit of our faith.
And every day culminates with Holy Mass,
Pope Francis theme for 2018
"Do not be afraid, Mary, for you have found favour with God."
(Lk 1:30)
Monday 6th to Friday 10th August
Direction click here
Fr Pat Deegan is the Spiritual Director for the Northern Catholic Conference and is parish priest at Our Lady's & St Alphonsus in Moss Side, Manchester.
Fr Pat holds a masters degree in counselling from the Franciscan University of Steubenville, Ohio.
Fr Pat is a well known speaker at many conferences and we are look forward
to hearing him share the word of God with us.
Mr. GARY STEPHENS, BDiv
Gary is Married to Joanne with 7 children, Gary is a full time Catholic evangelist, speaker and an associate member of the Prince of Peace Community. Previously, Gary was an associate evangelist in the Pilgrims Community and also coordinator of the Melbourne Catholic Schools of Evangelisation in Australia.
Accredited with a Bachelor of Divinity, Gary has spoken at numerous Catholic events and also has an international ministry in Portugal and Poland. A specialism for Gary is passing on the Faith through sport. Gary also has a prison ministry.
Fr Bernard Murphy CFR – Fr Bernard is the "Servant" (international leader)
of the radical Franciscan Friars of the Renewal, which began in the Bronx in New York and today has many friaries in several countries of the world.
As well as serving the poor, many of the friars preach internationally at
retreats and conferences. Fr Bernard is known for his inspirational preaching and infectious joy.
Fr Gabriel Kyte CFR is the Local Servant at St. Pio Friary in Bradford and a Friar since 2005. He has worked extensively with young people in the impoverished estates of the Bronx, USA and in Limerick, Ireland. He now works with the brothers serving the poor and those on the margins in their city centre mission in Bradford and is excited about what the Lord is doing in Bradford and throughout the UK. Fr. Gabriel has a passion for mission and for proclaiming the Gospel to those who have not yet heard it.
STEVE MURRAY 'Behold Ministry'
Steve is a Husband, Father, Mime Artist, Actor, Preacher, Photographer and most importantly a Child of God.
Behold is not just a mime ministry....it's human theatre where the gospel is delivered in a fresh, unique and inspirational style. Combining mime and preaching, Steve has ministered in 18 nations in conferences, churches, schools, missions, theatres and prisons.
Steve has performed at Spring Harvest, New Wine, Easter People, National Elim Conference (UK & New Zealand), Mandate, Celebrate, New Dawn and hundreds of churches, schools, conferences, missions, out-reach events and prisons worldwide.
ROS POWELL is an International speaker in the U.K, Northern Ireland, Portugal, U.S.A.
Actively involved in Pro-life and Spiritual director to "Precious Life"
(largest pro-life groups in the North of Ireland)