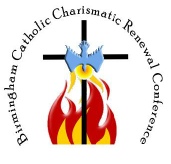 Conference Details
"A new command I give you: Love one another.
As I have loved you, so you must love one another."
2018 Conference 6th - 10th August
Conference Prayer
Father, in Heaven,
pour out Your Spirit upon the
Birmingham Conference.
Grant to everyone a new vision
of your glory,
A new experience of Your Power
A new faithfulness to Your Word
A new consecration to Your Service
so that Your Love may grow among
us and Your Kingdom come
through Jesus Christ Our Lord.
Amen.
The Conference
lasts for five days.
Receive the Eucharist every day
Praise and Worship twice a day
Adoration of the Blessed Sacrament
Prayer Ministry every day
Healing Ministry after every Mass
UK and International Speakers
Youth Ministry
Children's Ministry
Fellowship
Celebration of the Eucharist is one of the highlights of the Birmingham Conference and
is the source and summit of our faith.
And every day culminates with Holy Mass,
Pope Francis theme for 2017
"The Mighty One has done great things for me, and holy is his name."
(Lk 1:49).